Lafayette, CO, September 4, 2022—Colorado C-PACE today announced that ORRA Keystone Investments, LLC will construct a $322 million ski resort and housing development in Keystone, Colorado. Engineering support for the project was provided by Group 14 of Denver. Enhanced Capital provided $55 million in C-PACE financing. This is Enhanced Capital's second C-PACE project in the state and the largest C-PACE financing in the Colorado program's history.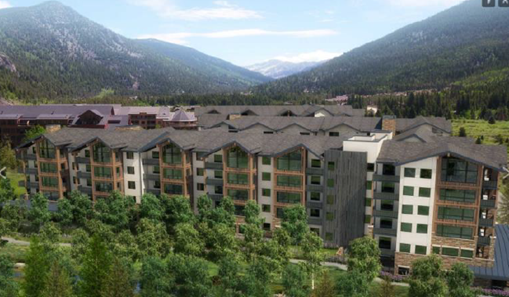 The new 231,000 sq. ft. mixed-use resort and housing development will include 95 private residences of varying sizes. The project includes a 107-room hotel that will feature a pool, meeting rooms, laundry service, a restaurant, and 89,300 sq. ft. of covered parking. The property includes many energy efficient and sustainable design features such as: high levels of insulation; a high efficiency water source heat pump system; condensing boilers and cooling towers equipped with variable frequency drives; and efficient snowmelt systems. Other energy and water saving features include domestic hot water provided via plate and frame heat exchangers; low flow plumbing fixtures; and lower lighting power densities.
Celeste Cizik, Group 14 President, and Existing Buildings Director said, "Our analysis forecasts energy savings will exceed the 2015 IECC (International Energy Conservation Code) by 17%. For Keystone, this means lifetime energy cost savings of $1.3 million and greenhouse emissions reduction of 7,588 tons – savings that would have been difficult to achieve without the support of Colorado's C-PACE program."
Ian McCulley, Director, Enhanced Capital, said, "Given the property's many energy efficient and sustainable design features, this project is a great example of the financial and social benefits enabled by C-PACE financing. We are excited about this project and pleased to have assisted ORRA Keystone Investments in realizing its vision for this beautiful property."
Scott Russell, Managing Partner for the project, said, "From the outset, we wanted to build an iconic resort that will not only be in keeping with the magnificent setting in Keystone, but will deliver the luxury and service that a ski resort of this level deserves. Thanks to the combined efforts of Group 14, Enhanced Capital, and the outstanding support by Colorado's C-PACE program our project will be a win for both Keystone and the environment."
Ryne Scholl, the Summit County Treasurer, added, "This project marks the County's fifth C-PACE project, bringing the program's total investment in sustainability and energy efficiency to over $67 million. As with all C-PACE projects, this exciting new ski resort will add jobs to our region and make a significant contribution toward meeting our ambitious carbon reduction goals."
About Colorado C-PACE
A program of the New Energy Improvement District (NEID), administered by Sustainable Real Estate Solutions, Colorado C-PACE facilitates financing for energy and water efficiency improvements in new and existing commercial buildings, including new heating/cooling systems, lighting, water pumps, insulation, and renewable energy projects. C-PACE offers long-term financing that covers 100 percent of the project cost and is repaid over a period of up to 25 years. The payments are structured as a regular line item on the property tax bill.  When a property is sold, the C-PACE assessment can stay with the property and transfer to the new owner, who enjoys the ongoing utility cost savings associated with the project.
About SRS
Sustainable Real Estate Solutions (SRS) partners with state and local governments to administer commercial property assessed clean energy (C-PACE) programs. Founded in 2010 by experienced commercial real estate and energy efficiency professionals, the company's proprietary technology-enabled Energy Performance Improvement Calculator (EPIC™) tool streamlines the management of the data-intensive C-PACE technical and financial underwriting process. SRS's Investor Confidence Project-credentialed quality assurance methodology has facilitated over $600 million in C-PACE financing nationwide. SRS empowers C-PACE public-private partnerships across the country. The company is based in Newtown, Connecticut.
About Enhanced Capital
Enhanced Capital Group, LLC is a leading impact investing firm with over 20 years of experience investing in Small Business Lending, Impact Real Estate, and Climate Finance.
From inception in 1999 through June 30th, 2022, inclusive of proprietary assets and assets managed by affiliates, Enhanced Capital has raised a total of $5.1 billion. Of the total AUM, impact assets represent $3.0 billion invested in over 750 projects and businesses across 39 states, Washington DC, and Puerto Rico and does not include investments made by non-impact affiliates.
Enhanced Capital is committed to investing in four main impact themes: economic growth and job creation; underserved communities; underrepresented populations; and environmental sustainability. Enhanced Capital represents the impact solution of P10, Inc. (NYSE: PX), a diversified, multi-asset investment platform.