For years contractors and project developers have asked us: Why is it so darn hard to sell energy efficiency? To answer that question, SRS has made a multi-million dollar investment to develop a groundbreaking solution. Discover how this tool is being used by contractors to accelerate their project sales.

Powerful Software
for Energy Efficiency Projects

Estimate energy savings

Calculate financial impact

Win more projects!
EPIC empowers HVAC contractors and energy efficiency project developers to confidently estimate the energy savings and financial impacts of their projects in real time.
EPIC's proprietary data, predictive analytics and proven technology are based on thousands of energy performance improvement projects conducted nationwide over the past decade.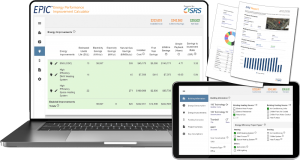 The EPIC app is cloud-based and can be accessed from anywhere with an internet connection.
EPIC-generated reports can be appended to your equipment replacement proposals to illustrate key project economics in support of your client's investment decision. Your proposal will stand out and help transform an unwelcome capital expense to a compelling investment opportunity.
Back to Top